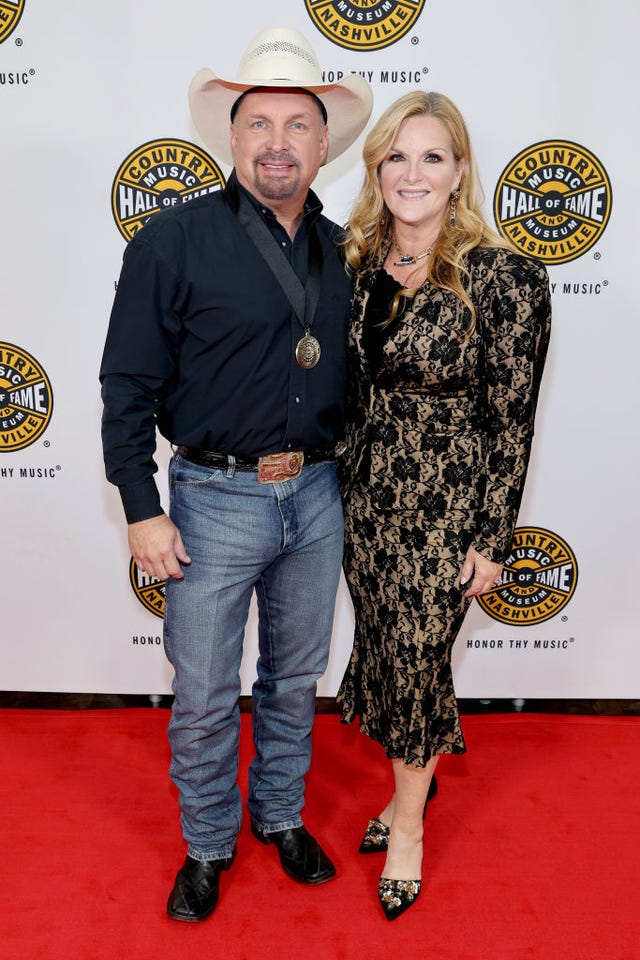 Trisha Yearwood's latest appearance has her fans riled up, and not just over the country music superstar's show-stopping vocals. The icon has been awarded Grammys, CMA Awards, ACM Awards and even a Daytime Emmy, but there is one major recognition lacking from her resume: a hall of fame induction.
Trisha made an appearance at the Country Music Hall of Fame for The Big Gig, a special musical event held exclusively for museum members. The Grammy Award winner took the stage to perform some of her hit songs, including "She's in Love with the Boy" and "Walkaway Joe."
She performed in a perfectly fitted black suit with flared pant legs (you can score a similar look here on Amazon!). The whole suit is covered with silver studs, and she paired it with a black tank top and layers of necklaces (a few great dupes are on Amazon, too!).
The Country Music Hall of Fame shared a post from the event on Facebook, and fans took the opportunity to call out the organization with messages like:
"She looks so beautiful it's way past time for her to be inducted into the hall of fame."
"Trisha Yearwood deserves to be in the next class of COUNTRY MUSIC HALL OF FAME INDUCTEES. 🌟💙🎶🎶💙🌟."
"I'm a member, but will up my membership to a higher level when you induct this totally deserving woman into the HOF! Trisha Yearwood needs to be called out on Monday as the inductee for the modern era!"
"Just face it: It's time to induct Trisha Yearwood into the Country Music Hall of Fame!"
Her husband, Garth Brooks, who was inducted into the Hall of Fame in 2012, has made his position known on the subject. On his Inside Studio G Facebook show back in 2021, he said, "One of the greatest crimes in country music history right now: Trisha Yearwood is not in the Country Music Hall of Fame yet. That is a crime because I can't tell you how many people have moved to this town because this woman's voice drove them here. This is the greatest singer we have in country music, arguably, and so I'm a huge, huge fan."
Now, we understand that Trisha's husband of 17 years might be biased, but we couldn't agree more with his sentiments!
Katie Bowlby is Digital Director at Country Living, where she covers gift guides, product reviews, crafts, and TV shows like Yellowstone. She's currently stitching up a cross-stitch pattern for the magazine's next issue